Currently, Jack and his team from Arise Ministries are serving in the city of Tanauan. It is a small city (almost like a suburb) 18 km, or about 9 miles, south of Tacloban. The situation there is just as devastating as the images of Tacloban that we have all seen on the news. Jack has spoken with many individuals, including the mayor of the city, and they have all said the same thing, "We were prepared for the typhoon and what normally comes with it, the wind, the rain, and the rising flood waters." However, what they were not prepared for, and what they could not prepare for, was the tidal surge that came with the storm. This tidal surge was more than two stories high and pushed more than a kilometer (about half a mile) into the population. Then, according to the survivors Jack spoke with, there came three tidal waves that just ripped into the land. People were stuck in houses, shelters, gyms and the water came without warning and went over everyone's head. From what Jack has seen and heard from the survivors, anyone that was in a one story building did not survive. Those that were in a two-story structure at least had the chance to get to the roof. People said they went as high as they could go, and when they could not go higher they were swept away. They would try and grab anything to hold onto and the only thing most people could grab that was higher than the water were the coconut trees. With tears in his voice Jack told me how so many people just couldn't hold on to their children when they were swept away. I can't even write this now without tears pouring down. This is something that would be absolutely horrific to live through. Just the thought of watching my child be whisked away by flood waters when there is nothing I can do to save them makes my stomach hurt. There are so many children that were killed. My prayers are with those parents.
There are entire areas of Tacloban and the cities surrounding Tacloban that have been completely wiped out. There are barangays, or neighborhoods, where ninety percent of the people were killed in the storm. The devastation in this area of the Philippines where the eye of the typhoon ripped through the land is horrendous.
Jack told me about a man who is part of the mayor of Tanauan's security staff that tried desperately to move his wife and children to higher ground when the storm hit. He did everything in his power to save them. He had to leave them, though, in the midst of the storm to help the mayor and when he came back the very next day to find his family all of them were dead and buried already. His entire family is gone.
The waters were so strong that the city hall building which is approximately 750 meters (a little less than half a mile) from the sea had water over the second story of the building. Everything is lost. While the Philippines is becoming more advanced, many of their systems are still on paper and not in a computer (and if they are in a computer system they are not entirely accurate or complete). Therefore, losing entire government buildings means losing records of birth, death, land titles, etc.
Jack and his team have been helping an American surgical team that has been there since the day after the storm. The surgical team has been performing fifty to sixty surgeries a day and has been delivering babies, preforming C-sections, and every other surgery you can imagine. To make things even more complicated it has been raining the past few days and there are literally no roofs on buildings. Imagine trying to perform surgeries or medical care in that type of condition. One of our team members job is just to push the water out of the surgical areas just so they won't flood. The doctors asked our team to set up a wound care station. Jack is the only one with any medical training, but three of our team members, Dennis, Albert, and Rizza have quickly learned how to help. They are not just cleaning simple wounds. They are cleaning things like six-inch lacerations to the head which go all the way to the skull. When the doctors first showed our team what to do they said they weren't sure they could do it, but now Jack said they are cleaning wounds like champs. They have been an amazing help to the doctors and the people that have come for treatment. I am really proud of them.
Another major problem that is starting is an epidemic of diarrhea due to the lack of sanitation and clean water. Our team has been treating this condition the best they can. They are showing people how to make oral re-hydration solution, but with little to no clean drinking water it has been a huge challenge. Many of those affected need antibiotics and without a way to hydrate them they could easily die.
One of our team members, Carmona, is from the city of Tanauan and she has been amazing helping with translation. She and Jack have been working directly with Mayor Pel as he works all hours of the day just to find food for the people. The mayor has been completely overwhelmed but has not stopped working to try and help his people. As of yesterday this city of over 50,000 had only received three hundred sacks of rice for the people. That amounts to only about 5 sacks of rice per barangay. (A barangay is the equivalent to a neighborhood or area of the city.) How do you even distribute such a small amount without causing chaos? How do you even choose who to distribute that to? The city had a large amount of emergency food supplies in preparation of the storm however all of it was washed away with the waves so they literally have next to nothing.
As of yesterday, just the city of Tanauan had buried 500 people and over 600 are missing, with many that have yet to be reported missing. They are unable to identify many of the bodies and because of the sheer number of dead they are burying them in mass graves. The small amount of heavy equipment the city has is being used to dig graves. The numbers of confirmed dead and injured on the news are not even close to accurate. Jack said that the people are in such shock and so hungry that they haven't even tried to clean anything up. Nothing has been lifted off the ground so there is no telling how many people are under the debris. Jack is trying to coordinate people (both survivors and relief workers) to start the process of moving debris so they can get the bodies in the ground. The longer they stay there the more disease will spread. Jack said the scene is worse than any horror movie you can imagine.
The city has many needs, but the greatest right now are:
1. Food and ways to cook the food. (When you lose everything you have nothing to cook with.)
2. Water tablets (to clean the water)
3. Gauze
4. Antibiotics
They are also in need of bleach, gloves, trash bags, and shovels.
According to Jack there is literally nothing left of the area and the best chance for survival for these people is to get out of the affected areas. There is next to nothing left to rebuild right now. There is no commerce, there is no industry. There is nothing. The Philippines is a country with many areas that are incredibly overpopulated and the mass exodus of this area destroyed by the typhoon is going to increase that. Please pray for the other cities that will absorb many of the survivors of this typhoon.
Our mission team is safe and is staying in a house a little further from the sea that was not destroyed by the typhoon. They have a water pump and so far the water is okay (however not for drinking). They have their own food supply and are doing good, making sure that they stay healthy so they can maintain helping others.
Please continue to pray for their safety and strength as they serve the survivors. Pray that the relief aid that the world is sending gets there quickly. The need for food and clean water are overwhelming. Right now most of the people have chips to eat since they raided the downed grocery stores and those are the things that survived the storm. However, chips will not stave off hunger for long and the desperation is getting more intense every day.
Thank you to all who have donated to our relief effort so far. Jack and the team are incredibly grateful, as are the survivors.
Above this news article you can see a news item from Nigthly News from the NBC. They have filmed the doctors which Jack and his team have joined. You can see this item also on the website of NBC.
We are still looking for sponsors who want to support our relief mission. Hundred percent of the donated amount will go to the victims in the form of food, water, medicines, etc. You can donate online or send it to: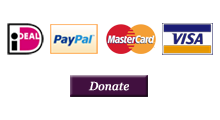 Donate online or send your donation to: Bank account number: 1114.80.035
Stichting Sparrow in Oldekerk, The Netherlands
Please mention 'Typhoon Haiyan'
IBAN: NL10RABO0111480035 BIC/SWIFT: RABONL2U
Sparrow is recognized as an Algemeen Nut Beogende Instelling (ANBI). This means that gifts to Sparrow are tax deductible. For more information about this arrangement visit the website of the belastingdienst.