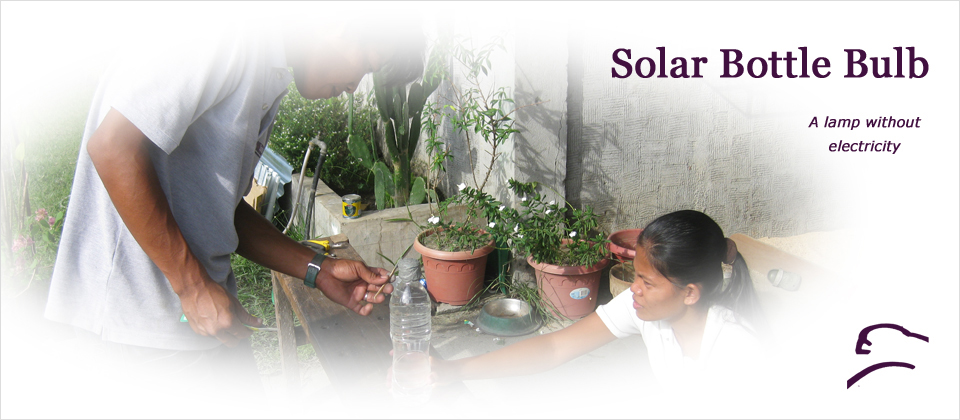 A lot of houses in Lazareto do not have electricity. In some houses its very dark inside even during the day. The Solar Bottle Bulb, a Brazilian invention, can change this situation. It's a plastic bottle filled with water and liquid bleach, which is let down from the roof into the house. This bottle functions like a bulb of about 50 Watt through the reflection of the sunlight. This Solar Bottle Bulb can thus illuminate a room well without using electricity. Through this light the people of Lazareto sometimes have light in their house for the first time or it reduces the electricity costs, which are relatively high.
Below you will find a little movie made by another Philippine organization about this Solar Bottle Bulb.
Construction plan
This Solar Bottle Bulb can be easily made using the action plan made by Sparrow. This plan can be used for free when indicating the source (www.sparrowfoundation.nl).
Step 1:
Cut a 16 x 16 inch square of a corrugated board. Draw the circumference of the bottle in the middle and inside this a slightly smaller circle.
Step 2:
Cut this smaller circle.
Step 3:
Cut little snips from the inside of the circle up to the line of the circumference of the bottle and push these little snips upwards.
Step 4:
Roughen the middle part of the plastic bottle with sand paper, so the bottle can be attached well to the board later on.
Step 5:
Fill the bottle with filtered water and a tablespoon of liquid bleach.
Step 6:
To protect the bottle cap for tears by the heat of the sun place an extra bottle cap over it.
Step 7:
Fix the cap tightly with sealant.
Step 8:
Put the bottle upwards in the board with snips and cover the hole well with sealant.
Step 9:
Make a hole in the roof just a little smaller than the circumference of the bottle and cut the same snips as in the board. Fold the snips to the inside in order to make the hole the same size as the circumference of the bottle.
Step 10:
Put the bottle inside and attach the board tightly to the roof with sealant to prevent leakage.
The result:
An approximately 50 Watt durable Solar Bottle Bulb.