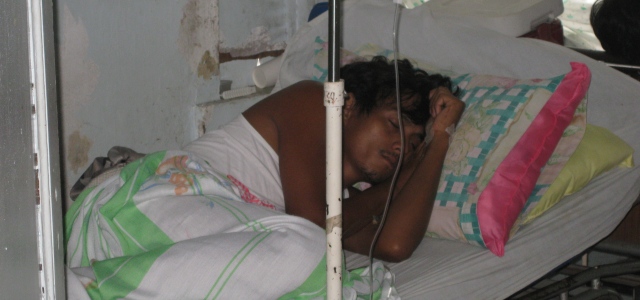 Ramil was hospitalized in a hurry, because he was vomiting blood. Medical examination learned he has open tuberculosis.
Ramil's family is very poor. When they had to take him to a hospital in a hurry, they could only bring him to a public hospital. While the medical care in this hospital is cheap, the quality is lower too. Ramil was laying in a ward with several other tuberculosis patients. Unfortunately none of the doctors in this hospital are specialized in tuberculosis. Ramil's family asked Sparrow for help, because they cannot afford the medical costs of a hospitalization even in this hospital.
Sparrow instantly contacted the only tuberculosis specialist in Calapan. After visiting Ramil she prescribed other medication and Ramil is taken to another hospital. In this hospital he is laying in an isolation room and the specialist has more opportunity to look after him. Furthermore this hospital is better equipped to examine the bleedings of Ramil.
The costs of the hospitalization and the long-term tuberculosis treatment are estimated at 750 euro's.